Introducing ShowHeroes Better Media
Balancing people, planet, and profit with our new framework
29 November 2022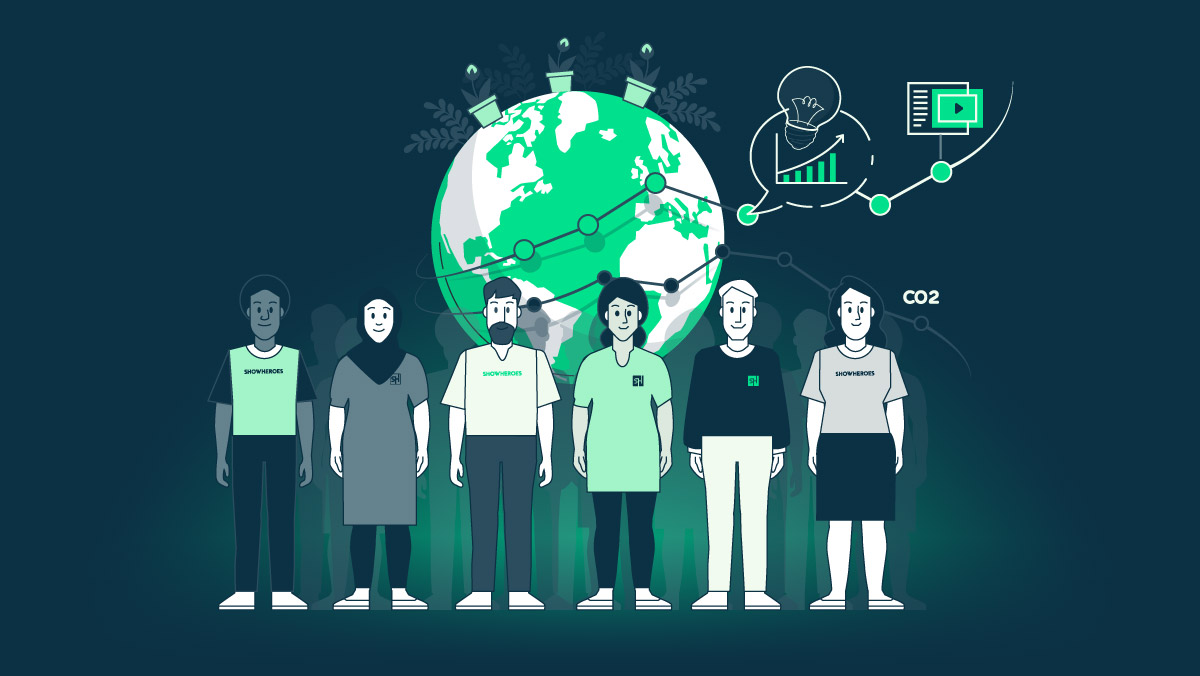 The digital marketing industry is rife with healthy competition as we all race to set industry standards in attention metrics and user engagement to drive revenue. However, as an industry, we can't be content with setting only those standards – we can't afford to. We need to set new standards for a digital marketing industry that can take us into the future, one that protects the planet and its people – and that's what our Better Media framework is aiming to do.
Our core values enable us to be an empathetic yet driven company that creates a positive impact, but they don't encompass everything when it comes to protection. With that in mind, our Better Media framework will hold us, and everyone we work with in the value chain, accountable to balance people, planet, and profit.
"ShowHeroes is holding everyone in the whole value chain accountable for their impact on the future. We need to all be in this together, which is why we're serious about upholding these standards," says Ilhan Zengin, CEO of ShowHeroes Group. "Choosing to work only with partners who meet these standards is a big commitment, but we need to make it happen to reach a future we can all thrive in. It's imperative that we come together as an industry to secure our environment, people's privacy, and diversity. Fostering sustainability isn't something that any company, however dedicated, can do on its own."
Better Media enables the ShowHeroes brand to continue producing outstanding results for its publishers, advertisers, and end users, while having a positive impact on the environment, local communities, employees, and the wider world.
"At ShowHeroes, we actively implement our core values in all of our relationships, operations, and partnerships," says Tanya Priyank, Director of International Growth & Better Media at ShowHeroes Group. "Our Better Media Framework builds on these established values with the goal of setting standards that balance people, planet, and profit for the whole industry. This needs to be an industry-wide effort, which is why it goes far beyond us here at ShowHeroes."
The four Better Media pillars are sustainable media, data ethics, environmental footprint, and diversity, equity, & inclusion.
SUSTAINABLE MEDIA
Think local, act global.
Dedicating ourselves to sustainable media means having a premium publisher network made up of hand-picked partners, with diverse and local voices who share our Better Media ethos.
We uphold long-lasting relationships with our publishers and, as a co-publisher, we exemplify editorial excellence through quality journalism from reliable information and entertainment sources.
DATA ETHICS
Choose a privacy-first approach.
We use SemanticHero's semantic targeting to deliver value and relevance for both users and advertisers without harvesting user data.
We refrain from any user profiling or remarketing tactics so that user data is protected at every step. Viewability, brand safety, ad quality, and verification are measured and ensured through long-term relationships with MOAT, IAS, DoubleVerify, and Adalyser.
ENVIRONMENTAL FOOTPRINT
Be mindful of the resources we share.
We track and reduce the environmental footprint we set from developing, producing, and running our business through partnerships with carbon measurement and management platforms Cedara and Scope3.
Furthermore, server scaling and highly compressed and adaptive video streams reduce unnecessary bandwidth and resource usage.
Our environmental efforts are led by our Sustainability Lead Araceli Almada – check out this interview with her about her journey with business sustainability, and catch her speaking on the Green About Media podcast.
DIVERSITY, EQUITY & INTEGRATION
Show respect for each other.
Diversity, equity and integration principles shape our culture, operations, and client relationships.
That means actively fostering a culture of transparency and acceptance through open communication and awareness initiatives.
We make sure to produce authentic and inclusive content that accurately represents today's society and is relevant for diverse preferences, cultures and hyperlocal ethnicities.
In our product portfolio, we also offer special donation ad formats with advertising clients for various charities.