DMEXCO Wrap-Up: Top Three Topics
Hopeful talks for a brighter future in the digital landscape
30 September 2022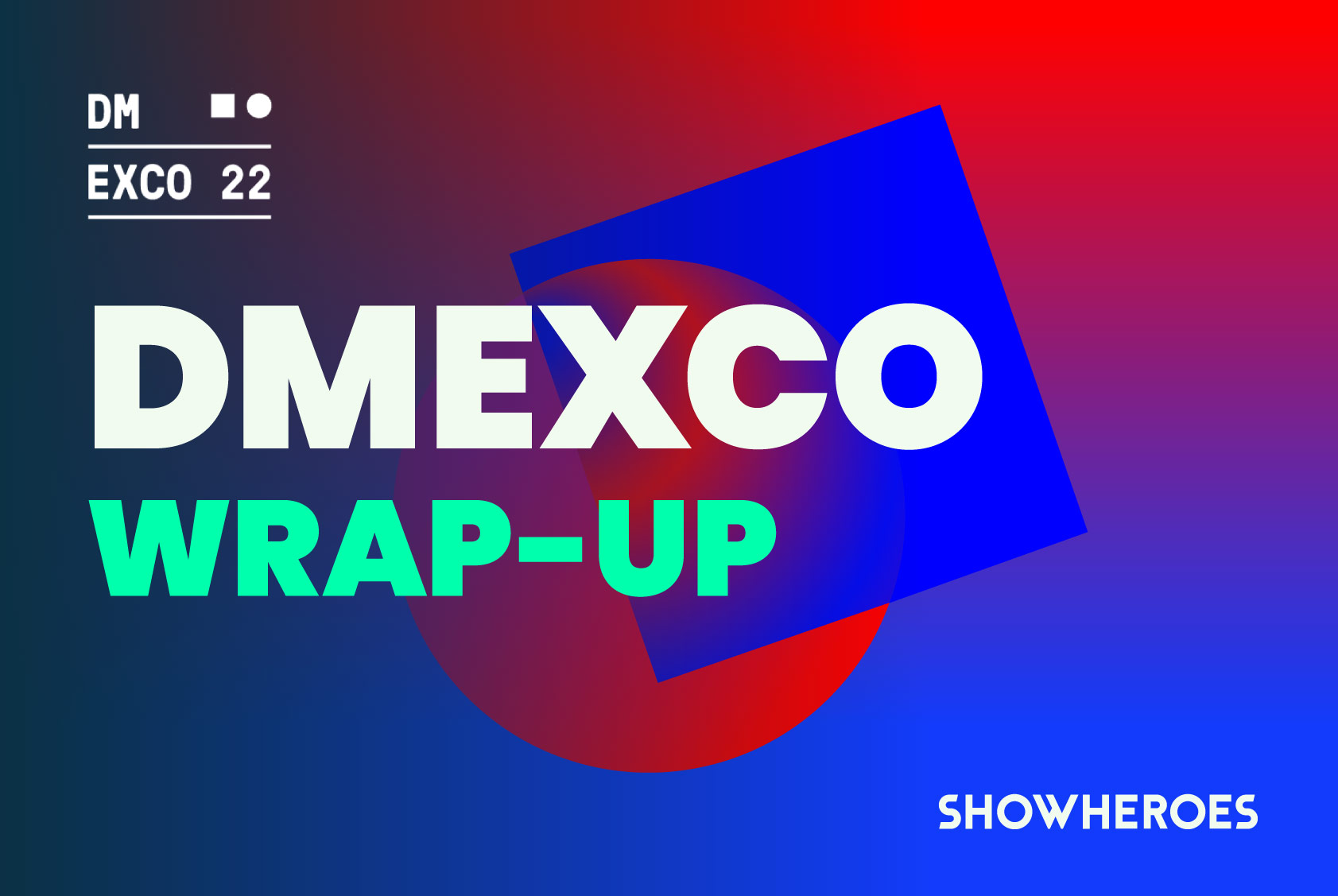 This year's DMEXCO floor was buzzing and the energy was palpable after three years of virtual conferences.
The conference boasted a hefty 40,000 visitors from around the world and from the entirety of the digital marketing ecosystem – 91 countries and 560 partner companies were represented in-person. 770 speakers discussed advancement into the future not simply as competitors, but in a united front for a healthy future under the banner #WeProgressTogether.
What we can't capture in words, though, is the conference's electric atmosphere – which is why you can watch our video wrap-up to feel like you were there (or relive it)!
The hovering issues on everyone's mind on the DMEXCO stages were: data, more digital communication, a growing importance of video formats, and the metaverse megatrend. Discussions about the current challenging economic times were balanced with inspiring ideas for securing a healthy future.
We've broken down the top three main topics that we heard in various talks and on the floor: Sustainability, cookieless advertising, and how brands are prioritizing the customer in the face of economic instability.
Sustainability in advertising and the digital space
Sustainability and zero-emission marketing was a dominant topic among the presentations. Attendees have been calling into question whether flying to the conference is at odds with that goal – something reflected in the notably lower attendance this year.
"Sending the entire company every year to Cologne creates a vast carbon footprint", said Stephen Filler, UK Country Manager at ShowHeroes. Regarding future DMEXCO visits, Stephen said that "with climate change being such an important issue, that will be impossible to justify going forward."
DMEXCO may find itself being more of a hybrid event. Online attendance for more far-flung attendees and for those closer to Cologne by train, rather than plane, will be a more conscious choice.
Something made clear throughout the conference was that sustainability needs a unified, industry-wide approach, with meaningful contribution from every part of the digital advertising ecosystem. That means prioritising efficiency at the very least.
As Andrew Hayward-Wright, Programmatic and Sustainability Advisor IAB Europe put it: "Whether it be the SSPs, DSPs, identity or the verification companies, finding efficiencies and simplifying the tech stack pathway will go a long way to reducing the amount of energy required to deliver digital ads and subsequently reduce emissions." He went on to explain that the industry can't wait for governmental oversight and must regulate itself: "Creating action points on how every partner can do this and holding peers to account if they are not incorporating these as essential KPIs should be the industry's top priority."
At ShowHeroes we've been taking major steps to achieve sustainability with carbon measurement and offsetting, as well as our new Green Media campaigns, powered by our partnership with Scope 3 – learn more about ShowHeroes Green Media Solutions and see how you can get ahead of the sustainable advertising game.
Going cookieless
Google has delayed hammering the nail into the third-party cookie's coffin, but a cookieless digital advertising landscape is still firmly on the horizon.
Industry titans presented their visions for a post-cookie future and it was no less of a topic on the conference floor. It seems however, there is still a lack of urgency, given Google's delay.
Our stance at ShowHeroes is that it's unwise to not be mapping out your post-cookie approach now, well in advance of the phase-out. Check out our writeup that explains the phaseout and the reasons for its delay in more detail, and sets out ideas for your post-cookie plan.
Marketing through the downturn
Short-term concerns were on a lot of DMEXCO attendee's minds. There's been a trend of slashing advertising budgets as an atmosphere of tightened belts takes hold.
When the economic storm lifts, however, brands which spend advertising budgets smartly will come out on top, compared to those who simply cut down.
Now is the time to build long-term relationships with privacy-safe targeting and engaging content. As Microsoft's General Manager for Marketing Sandra Lopez put it, "Advertising is no longer consumer neutral."
It's in times of uncertainty when it's imperative for advertising to be visible in a way that is personal, useful, and resonating. That means listening to consumers, being agile in adapting to a quickly changing landscape, putting brand-safety first, and using privacy-safe, sophisticated targeting technology.
Missed DMEXCO? Listen to The Digital Distillery podcast
If you've never been to DMEXCO, we'd highly recommend it. Before you get tickets for next year, though, you should have a taster first.
ShowHeroes Group-affiliated podcast, "The Digital Distillery" has done a quick, special episode to immerse you in the DMEXCO atmosphere in all of its talks, conversations, and parties.
Tune into the experience with host Phil McDowell as he takes you with him at DMEXCO22.