Digital Marketing Distilled Into a New Podcast
Talking with Phil McDowell about opening up digital media and marketing for everyone with The Digital Distillery Podcast
20 September 2022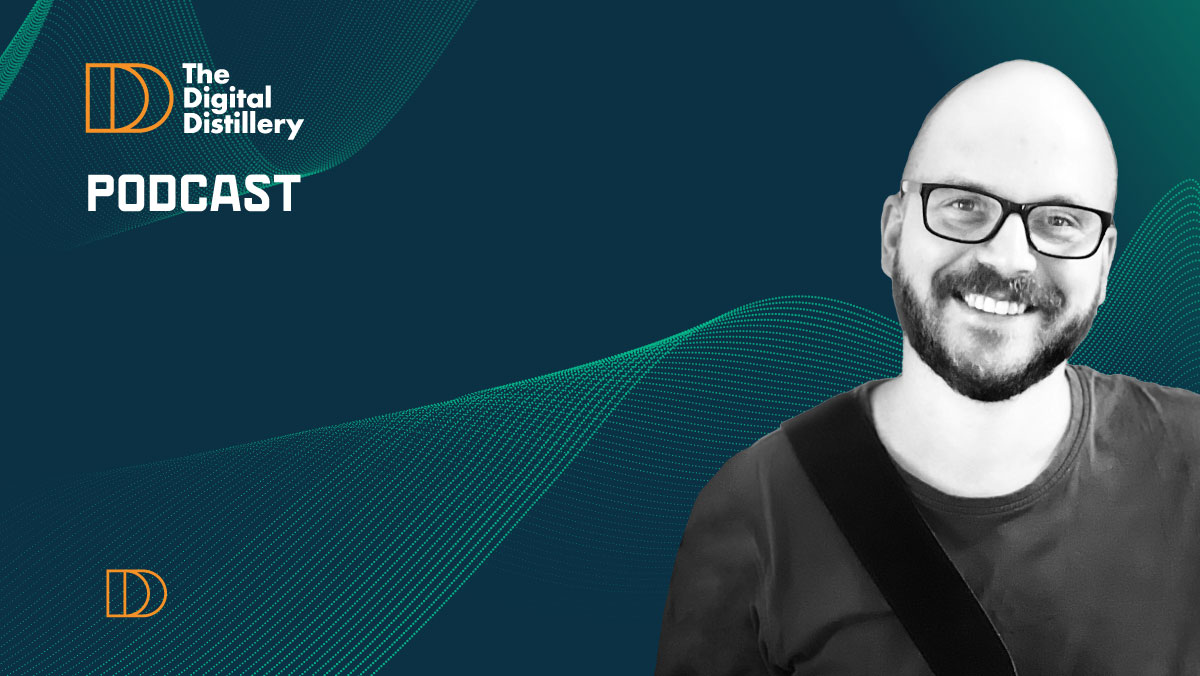 There are a lot of podcasts out there, and if you're an avidlistener, you're probably aware there's a lot more content than there is value.
Content for content's sake is something that plagues the podcast ecosystem, and the marketing and adtech world is no outlier. There's a lot of very similar styles and discussions, often requiring a lot of background knowledge as a barrier to entry.
Phil McDowell and the rest of his team at The Digital Distillery are on a mission to bring a refreshing angle and format to the digital marketing podcast landscape.
"My professional career so far has been multifaceted to say the least, but if I had to summarize it would be generally split between music/audio and content creation. I'm actually working at both right now," says Phil. "I'm working with ShowHeroes Group as their in-house audio engineer, and I'm also the Lead Audio Content Creator for The Digital Distillery which is where the podcast comes in."
IN A SPACE SATURATED WITH TALKS, CONFERENCES, AND NOT LEAST, PODCASTS – WHY CREATE ANOTHER?
"What we're doing with The Digital Distillery Podcast is actually helping people navigate through everything that's said on a daily basis – distilling, simplifying things," Phil explains. "A lot of people are where I was only a couple of years ago – they might be interested but not have the most in-depth understanding of adtech or marketing, and it makes jumping into conferences and talks and even podcasts really daunting."
Phil explains that The Digital Distillery gives a leg-up to people who feel that the headlines and conferences aren't made for them. "There's a necessary disconnect between deeper digital marketing news and talks, and people who haven't taken many of their first steps into the field," Phil told us. "That makes sense, and it's not a bug, it's a feature. An industry level talk about post-third party cookie advertising isn't going to spend its first ten minutes explaining what a cookie is, because that is assumed knowledge in these circles. But The Digital Distillery Podcast is about taking that talk, breaking it down, and getting people to the point where they can go from zero, to being comfortable in the front row."
It's also interesting to hear where The Digital Distillery gets its inspiration from. "We're equal parts event format and content platform." Phil explains. "Since The Digital Distillery events already have a lot of great minds in digital marketing giving high-level talks, we found that this style of podcast makes a really great crossover point to bridge the two sides – I break down the themes and topics presented at every Digital Distillery event, and give explanation and context as well as go off on a few tangents. This first season is our recent event in Vienna – I tried to set the scene of what Vienna feels like, so you get the experience of being at this exciting conference rather than just hearing my explanations!"
There's more going on in the new ecosystem than just The Digital Distillery podcast. "We're creating a whole podcast network with some really exciting stuff coming out. We can't speak about everything just yet, but we've got regional podcasts coming out for the UK and the Netherlands, we've got an ESG-focused podcast coming out with our immensely passionate Sustainability Lead Araceli Almada, and season 2 of the popular Programanda podcast is coming soon as well, this time focusing on the Women of AdTech."
The Digital Distillery Podcast is launching on September 20th, available on your preferred podcast platform. Tune in and enjoy the expertly distilled shots of marketing knowledge!
Any questions or queries?
Contact us!
Media Contact: Nadia Koski nadia.koski@showheroes-group.com
Network Contact: Phil McDowell podcast@the-digital-distillery.com