ShowHeroes Group Success Stories: Nina Fossli, Senior Publishing Manager
31 May 2022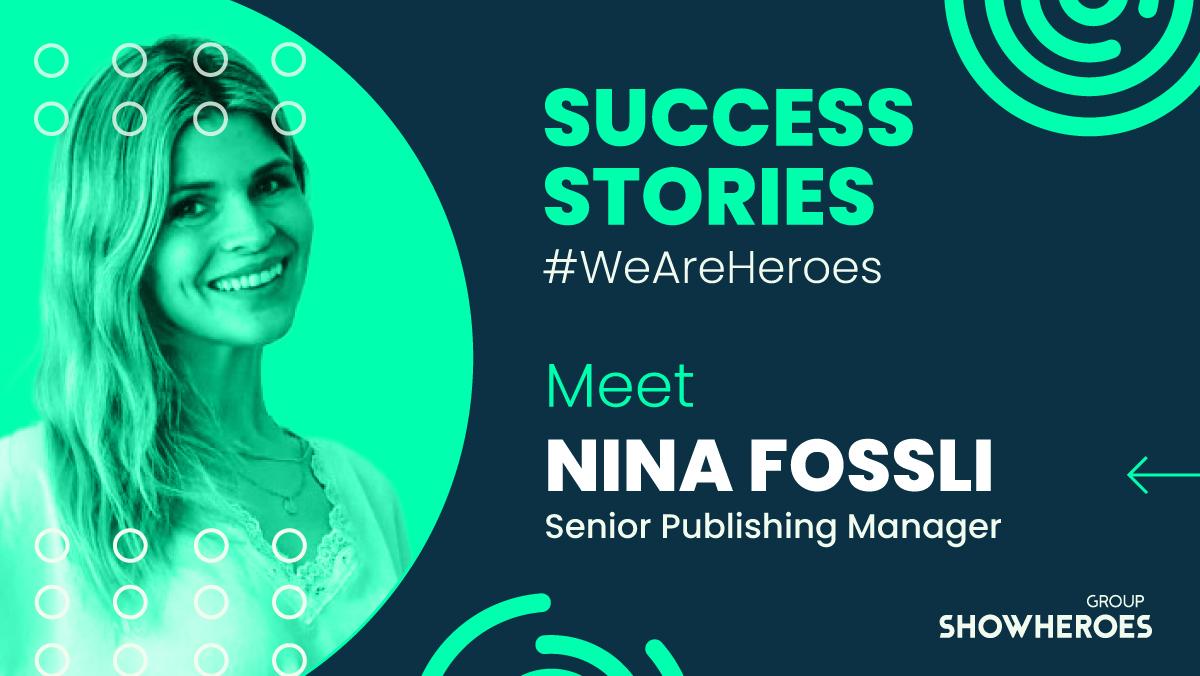 Employee Success Stories: An inside look at ShowHeroes Group
At ShowHeroes Group, we champion both professional and personal development.
To the SHG core, we believe corporate success is a product of talented, diverse, and committed individuals working collaboratively to aligned goals.
To showcase and highlight the endeavors made by some of the unique and motivated individuals within our company, we launched, "ShowHeroes Group Success Stories".
The growth of every employee is extremely important to us. Each person is treated equally and allowed a place to voice his or her opinion – two important points underlined in our Core Values. As a result, our people gain the knowledge and skills to build a career and advance their personal development, while our company continues its growth and promise to deliver high-quality solutions for our clients.
Take a glimpse into the personal success stories shared by some of our driven and inspirational team members since they joined the SHG family.
Together we keep on growing. Let the success stories of ShowHeroes Group inspire you.
Episode 3: Meet Nina, ShowHeroes Group Senior Publishing Manager on the Publishing team.
What do you do here at Showheroes Group?
My role is Senior Publishing Manager, the title might not be as clear as what I actually do here at Showheroes. Basically, I operate as the link between the editorial and commercial parts of both the publisher and ShowHeroes Play.
The main goal is to meet the publisher's needs, both in revenue and quality journalistic video content to provide premium instream and outstream products.
Tell us about your role. What does the day-to-day involve?
A regular day consists of daily contact with publishers, communicating with different departments on developing our product, and looking for new publishers to join our network.
How would you describe your own personal development at SHG?
When I came to the company that is now a part of ShowHeroes, I was not only new to the video business but new in the country of Sweden. I started out as a video journalist covering the Norwegian market. I never considered working in the supply department as an option for me, but life finds a way.
My journalistic background and perspective worked really well for how we worked with the publishers, and I found it surprisingly exciting.
Today I have confidence in my experience of making it in a fairly closed off-market for video.
What do you enjoy the most about working at ShowHeroes Group?
"That the sky is in fact the limit. I feel privileged to work with people that are pushing for development in a widely unexplored area in the media business as well as working alongside individuals that are experts in thinking outside of the box."
What do you consider your greatest achievement so far?
The following achievements come to mind:
1.     One of the first projects I initiated as publishing manager was to organically increase the in-article streams with our biggest Norwegian publisher Nettavisen. We went from 2 million monthly streams to pushing 10 million in just a few months. It boosted the revenue of course but also built a much stronger bond with the non-commercial departments over time.
2.     Taking the stage at the Nordic Media Days in Bergen and getting to talk about the future of video in the media business.
What advice would you give to someone starting out?
Don't be afraid to demand space; ask the questions that nobody dares to ask, unapologetically give your best ideas, and be humble enough to know that you never hold all of the answers, regardless of previous experience.
Get in touch if you're interested in learning more about the ShowHeroes Group.
Are you ready to start your own Success Story with us? Check out our open positions here.