ShowHeroes Group in Europe's Top Ad Tech Companies in Under 5 Years
14 December 2021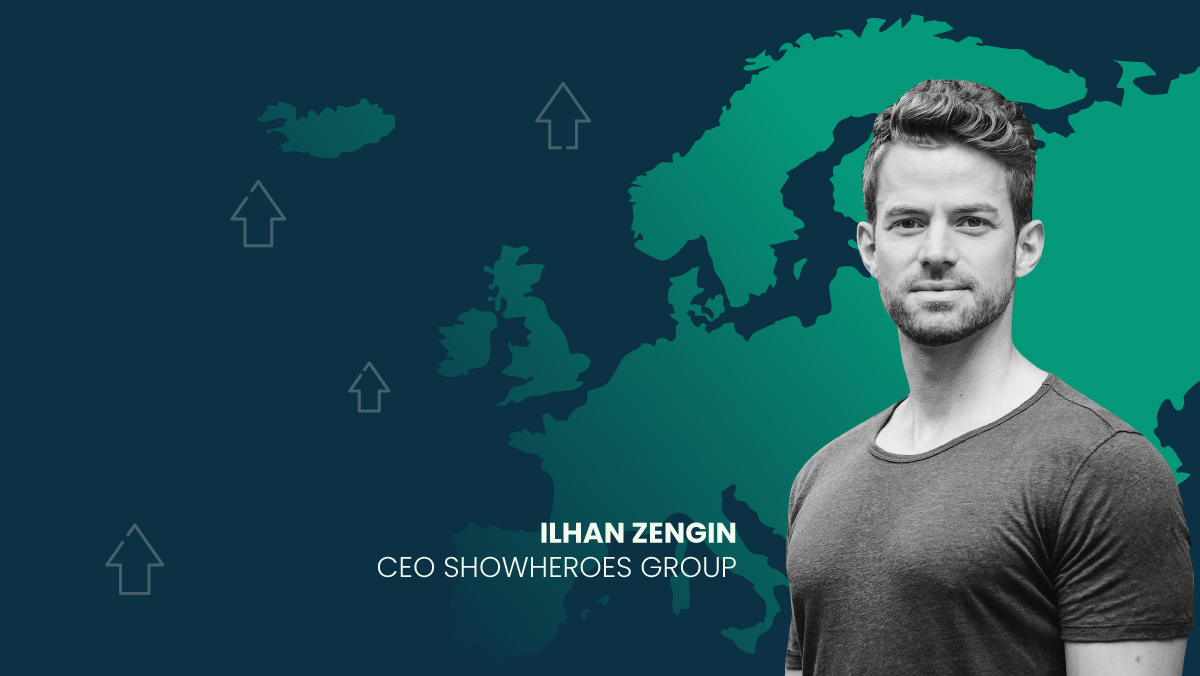 An interview with Ilhan Zengin
The German magazine StartingUp recently interviewed ShowHeroes Group CEO Ilhan Zengin about his journey of building ShowHeroes from a start-up to one of the largest video advertising companies in Europe. Ilhan discusses both the joyful moments and the challenges of starting his own company, as well as the hurdles the three co-founders had to overcome to get to the top.
Ilhan Zengin on starting ShowHeroes
My co-founder Dennis Kirschner and I met at the native advertising platform plista, our employer at that time. There we had the idea of founding our own company to challenge ourselves and put together the experience and know-how we had gained, along with our network, to good use. We were quickly able to win over Mario Tiedemann, our current CFO and COO.
The triad was complete: marketing/sales, business development, and finance. Now nothing could stop us. After a few discussions, our basic idea of ShowHeroes gradually took shape. Only a few weeks passed before we officially launched. In 2016, the GmbH was founded in Berlin.
Conquering the Age of Video
The company was born, the vision was clear: Let's conquer the age of video! And that's what we've been doing ever since. ShowHeroes provides video solutions for digital publishers and advertisers. We provide advertisers with space for their advertising messages on premium websites. Our videos increase the reach and time on site. Publishers, on the other hand, are supported in monetizing their content.
ShowHeroes Semantic Hero technology analyzes the context and content of the websites and enables us to address specific target groups with appropriate video content and advertising – innovative and effective for both sides. So much for the idea… then came the daily routine.
Courage, knowledge and simply luck
One thing first: in addition to our professional expertise and our unstoppable entrepreneurial spirit, we have sometimes simply been lucky. That is also part of it. Thanks to our experience at plista, we were able to overcome many of the usual hurdles more quickly and avoid some of the common mistakes in setting up a business. Our network also answered many of our questions. Whether it was investment decisions or the scaling of our business model, we could always rely on the advice of our contacts. Nevertheless, all beginnings are often difficult. And so the first business year also presented a few hurdles for us.
The biggest hurdle with start-ups: keeping an overview of all aspects
Founders know how it is: You have to keep countless things in mind at the same time, whether it's sales, product and business cases, or administrative issues. And as with every start-up, we were initially faced with the chicken-and-egg problem – no supply, no demand – and vice versa.
Our renewed-good fortune: We had already pre-produced content. After six months of preparation, we were quickly able to make a convincing publisher pitch and thus convince some of the larger market players of our merits. Among them were Hubert Burda, Gruner+Jahr and Deutsche Telekom.
You don't notice it at the time, only when you think back do you realize what an enormous team effort it was. To implement the pitch, we had to set up an ad server and put it into operation in record time. Unbelievable. We grew from that and, above all, became mentally stronger. But it also became clear that we urgently needed to expand our team. And that was not so easy. We wanted top specialists in video advertising. Difficult when you are not yet known. Here, our network helped us again. Many of our first employees came to us through recommendations. That still fills me with pride. Finding people who share the same vision is the basis for our success.
Sounds great, but we don't understand the product
Finding motivated colleagues is one thing, but as a start-up, you also have to be able to finance yourself – another challenge that has to be mastered. Here, too, our network helped us. The start of ShowHeroes was financed by the venture capitalist Cavalry from Berlin and several well-known business angels. We were already profitable twelve months later. A huge success. Especially when you consider that at the time of our founding in 2016, ad tech was by no means one of the trendy topics among venture investors.
We had to budget and turn over every cent twice. Together with our then very small team, we were able to generate a seven-figure turnover in the first year. By the way, it was anything but easy. More than five years ago, during our founding period, no one was interested in martech, ad tech, or video content. At first, investors had a hard time even understanding our product. But as I said, we had to become profitable quickly.
The pressure was enormous. The place where I spent the most time back then was the bridge between the two office towers of our coworking building at the time. Every day I walked for hours from one side to the other while pitching because that was the only place with mobile phone reception.
Often we got a few rounds further, invested more time and work, and in the end we were told, "Sounds great, but we don't understand the product. Come back when you're at five million euros turnover." That's tedious and grates on the nerves. Besides the pitches, of course, you also have to focus on the core business, because that's the capital. You can only do that if you have a good team, a good product, and great customers.
In the end, we raised less than five million euros in capital from third parties in the first five years and grew to Series C/D level without a real Series A. It couldn't have gone better. Today, of course, the topic of financing is easier for us – our figures, as well as the success of the entire industry, speak for themselves.
The ShowHeroes family is growing
This is mainly due to our steady growth. We started with the ShowHeroes Video Player and mobile-first video production. But a lot has happened since then.
A quick overview:
2017 saw the addition of the ShowHeroes Library with over 35,000 editorial content videos.
In 2018, the implementation of our meta supply-side platform (SSP) including header bidding technology for video. After which, we launched in Austria.
France, the Netherlands, and the UK followed in 2019. In parallel, our semantic targeting engine, ShowHeroes SemanticHero, was launched, as well as Programmatic Yield Management, ShowHeroes AdHero.
We also hosted the first "The Digital Distillery" conference in Berlin in 2019, an exclusive networking event and content platform that is now established across Europe. In 2020, the co-founding of the UNION Media joint venture based in London, as well as the acquisition of Stream Ads (Netherlands) and Viralize (Italy).
Then Corona hit. Spring 2020 was the most difficult time for us so far, but fortunately, we were able to bridge it.
Today, we are even stronger than ever: we are Europe's leading independent provider of video solutions for digital publishers and advertisers. We have quintupled our turnover in 2020 and hired over 100 new employees.
Through the M&A deals and new product lines, we have become more than 'just' a video marketer. Since December 2020, we have therefore been operating as the ShowHeroes Group. In parallel, our portfolio of services and brands has also grown significantly. We currently combine a total of six brands.
Our newest focus area: Connected TV (CTV). This makes us a pioneer in Germany. A position that we want to strengthen and further expand in the future. And we can do so. Because the back end is right: Today, we have 15 international locations in eight markets and over 200 employees. By the end of the year, we even want to grow our team to 300 Heroes. Incredible when you consider that five years ago Dennis, Mario, and I were on our own.
Overall, we have increased our turnover more than tenfold in three years: from 6 million in 2019 to around 100 million this year. And our development is sustainable because the ShowHeroes Group can grow on its own financial strength.
"Make your own mistakes, win your own battles. Only that will take you further."
Ambitious and focused
That was hard work – in which our experience and our network helped us the most. Like all founders, we doubted, sweated, and hoped at the beginning. Explaining our product, pitching our vision again and again – that took a lot out of us. But it also made us stronger and welded us together as a team. As trite as it may sound, we always believed in our idea and therefore persevered. The secret: our premium network and the added value that our products offer. We meet the needs of the market while constantly developing ourselves. That is the recipe for success. Now we want to become the most important player in the marketing of multiscreen video content beyond Europe. That is an ambitious goal, but we are on a very good path. One tip I would like to give to all founders: listen to your network, but also do your own thing. Make your own mistakes, win your own battles. That's the only way to get ahead.