ShowHeroes Group and Vidds Join Forces to Integrate Advanced AI in Video Production
1 August 2023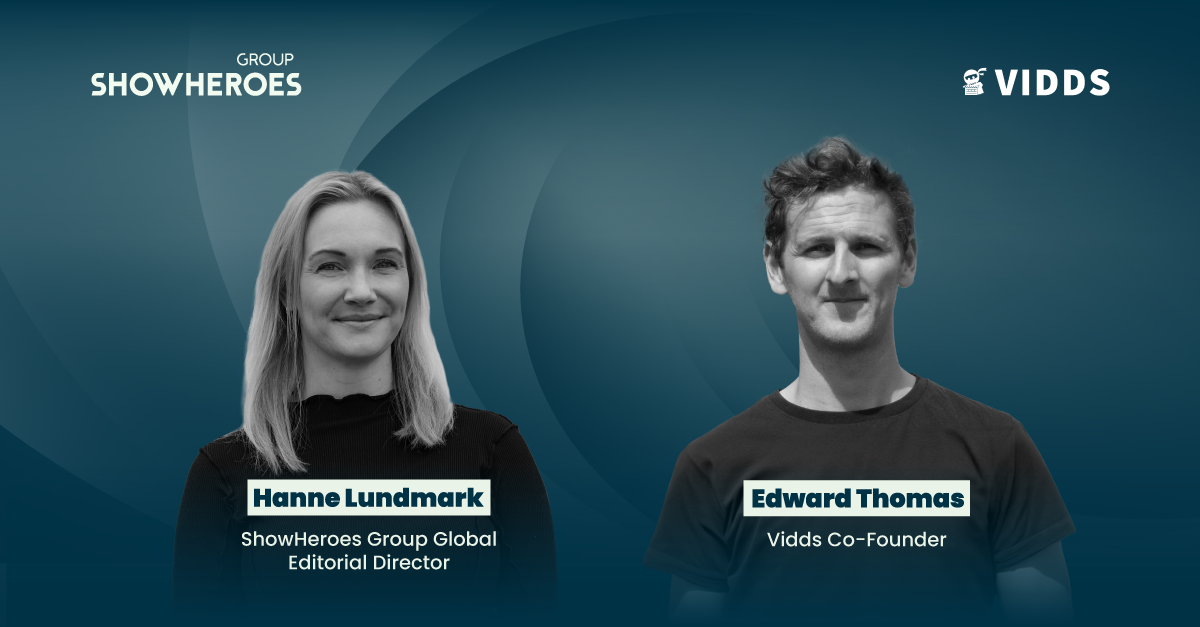 August 1, 2023, Berlin: ShowHeroes Group, a global leader in digital video, content, tech, and advertising solutions, is delighted to announce a strategic partnership with Vidds, an AI-powered video editing platform. This collaboration marks a significant milestone for both companies as they embrace the transformative potential of artificial intelligence in editorial video content production.
The new partnership leverages Vidds' cutting-edge AI capabilities and integrates them into ShowHeroes Group's video creation processes, especially through their creative production branch, ShowHeroes Studios. By incorporating Vidds' advanced, AI-backed video editing technology, ShowHeroes Group will dedicate more resources to producing sustainable, white-label content on a global scale and achieve new heights of efficiency, quality, and creativity in video production.
ShowHeroes Group has always recognized the importance of artificial intelligence. SemanticHero, its AI-powered, semantic-matching technology, has been driving efficient contextual targeting across all screens since 2020.
As recently as 2022, ShowHeroes Better Media, a framework for creative, sustainable media, now addresses artificial intelligence as an integral part of today's fast-paced digital industry and emphasizes the company's strong stance in this space. ShowHeroes' personalized ad creatives are developed in-house using diverse Generative AI tech throughout the creative process. The video tech company is constantly testing Gen AI applications and possibilities, combining them with the necessary human touch and creativity to truly be one of the global leaders in content and advertising solutions.
ShowHeroes Global Editorial Director Hanne Lundmark emphasizes the importance of the new collaboration with Vidds stating,
"We are really looking to push the boundaries of what Gen AI can do in video production. Browsing the market for the best solution, we were looking for features that help our creators be more efficient while simultaneously increasing the quality of our videos. Now with Vidds, our editors can spend more time researching, fact-checking, and measuring performance while we continue to deliver even more high-quality videos for our publishers. I love how teaming up with Vidds really makes our videos the most trustworthy out there. This is what the industry clamors for and, in reality, what it means to be a co-publisher."
The integration of Generative AI into Vidds' platform is an exciting prospect. They have already successfully integrated ChatGPT (3.5), and are currently working on releasing their GPT4 integration, which will be trained on more recent and diverse data sets.
Some of Vidds' current AI features being applied to ShowHeroes Studios' production include:
AI Storyboard Development: an impressive feature that uses AI to summarize large passages of text into key sentences or paragraphs. The AI then populates scenes with the summarized content and automatically selects suitable stock video assets.
AI Content Planner: a video idea generator that employs ChatGPT to produce different video concepts based on user-provided keywords or phrases. These concepts can then be selected to auto-generate full videos. This feature is especially useful for ShowHeroes Studios creators to improve video suggestions for niche publishers while the well-trained editorial team can hone their focus on ensuring top performance.
AI Video Generator: This powerful tool can generate entire videos based on prompts or keyword phrases. The AI generates text for each scene and performs a stock video search, selecting relevant assets based on the video's main topics. Certain clips will be produced with this feature while others remain 100% organically produced by the editorial teams and creators. All ShowHeroes Studios videos will continue to apply human revision in all final content creation steps and follow the Code of Ethics and rules of professional conduct.
Together with these integrations of advanced AI features in the production process, ShowHeroes Group will continue to lead the video industry with its best-in-class content. With fewer limitations during the editing process and the potential to save time through AI-driven planning and translation, the ShowHeroes team is already exploring new possibilities and applications for AI-generated content, particularly in the Asian market.
Vidds Co-founder Edward Thomas expressed his excitement about the partnership, stating,
"We at Vidds are thrilled to collaborate with ShowHeroes Group. Working with their large team of professionals has proven to be invaluable for developing video editing tools that empower content teams to produce high-quality videos at an increased rate. Already, their industry expertise and insights have contributed to the implementation of our AI-powered auto-translation feature, significantly reducing transcription and translation time to under a minute. Having ShowHeroes as a strong, global partner to test and provide development feedback for new features in 'real-life' circumstances is an indispensable competitive advantage."
As ShowHeroes Group and Vidds continue to innovate and push the boundaries of AI-powered video production, the industry can anticipate a new era of creativity, efficiency, and enhanced storytelling in the digital landscape.
About ShowHeroes Group
ShowHeroes Group is a global leader in digital video, offering content, tech, and advertising solutions.
As a co-publisher to leading online media outlets, the company upholds editorial excellence across a network of over 6500 websites, promoting quality journalism from the most reliable information and entertainment sources.
With a privacy-first approach, ShowHeroes' cookieless solutions, such as contextual and semantic targeting technology, paired with matched video content, drive value and relevance for both users and advertisers.
Founded in 2016 by Ilhan Zengin, Mario Tiedemann, and Dennis Kirschner with headquarters in Berlin, the company launched ShowHeroes Group in 2020.
Composed of its core brand ShowHeroes, production entity ShowHeroes Studios, performance marketing solutions provider Agon Digital, SaaS video solution Viralize, and The Digital Distillery, a networking event and content platform, the group employs almost 500 people worldwide with operations in 35 strategic hubs throughout Europe, LATAM, the US, and Asia.
According to Deloitte, ShowHeroes Group is one of the 50 fastest-growing technology companies in Germany and was awarded the "Technology Fast 50" prize in 2021 and 2022. For the Financial Times' "FT 1000" 2023, which ranks Europe's fastest-growing companies, ShowHeroes Group is in the top 60 companies overall, second in Germany for growth, and third in the Advertising & Marketing sector.
More information on showheroes-group.com
About Vidds
Vidds is an AI-powered video editing platform that gives content teams the best way to scale their video production.
Content Creators from all over the world use Vidds to streamline their video creation pipeline. From idea generation to video in one click, Vidds is the fastest and most efficient way to create videos.
The company was founded in 2020 by Edward Thomas and Andrew Walters with the mission of using emerging technologies to make video creation a fast, simple, and automated experience.