ShowHeroes Group Announces its Expansion into Asia acquiring iVS (Intelligent Video Solutions)
19 April 2023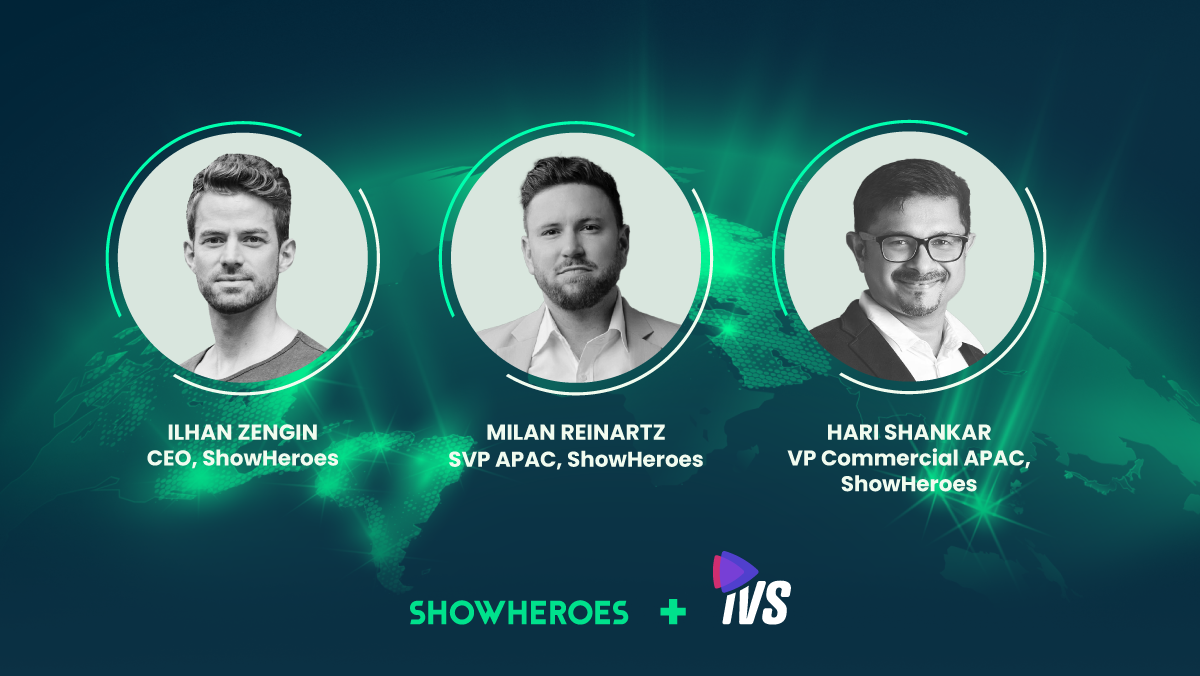 Berlin, 19 April 2023 – ShowHeroes Group, a global leader in digital video, offering content, tech, and advertising solutions, continues its global growth launching in Asia with the acquisition of iVS.
The synergic acquisition allows ShowHeroes to roll out its portfolio of contextual instream video and CTV solutions in this key global market, including: Indonesia, Japan, Malaysia, the Philippines, Thailand, and Singapore. iVS will be incorporated into the ShowHeroes brand.
Following two successful acquisitions in the last two years with PlayAd Media Group in the Nordics in 2021 and smartclip LATAM in 2022, ShowHeroes Group now operates in every major global market including the United States, LATAM, Europe and Asia, growing its global team to almost 500 employees. The value of the acquisition is not disclosed.
Intelligent Video Solutions, a premium instream video advertising platform based in Singapore, serves over 208 million unique users each month through its programmatic marketplace made up of Asia's leading independent publishers, advertisers, broadcasters and DooH providers. Through their AVOD platform, proprietary video player and smart technology, iVS leverages Machine Learning (ML) to enable better monetization opportunities and consumer engagement.
ShowHeroes' and iVS' solutions have synergies on various levels from the tech stack and OVP (online video player) to the instream and innovative video ad formats. Together, iVS and ShowHeroes offer some of the most effective and reliable video solutions in the Asian market. The strategic benefits for both parties are numerous: ShowHeroes global demand driven by direct sales teams, open market experts and exclusive PMP deals for iVS publishers, ShowHeroes Studios' in-house video content production, as well as access to ShowHeroes' one-of-a-kind global network of independent, premium publishers for iVS media clients. iVS' emerging SSAI technology will be integrated into the ShowHeroes VOD and live-streaming products, while various other features like ad and video player formats will also be consolidated to create a broader offering.
Ilhan Zengin, Founder and CEO, ShowHeroes Group:
"It was a natural step to consider combining forces with a leader like iVS to offer top-notch video solutions in this crucial market. We're no strangers to successfully executing acquisitions and integrations on all organizational levels. On behalf of ShowHeroes Group, I'm very happy to welcome all the new iVS team members into the ShowHeroes family, and especially Milan, Hari, and Ranga who are joining our leadership team."
iVS CEO Milan Reinartz will take on the role of SVP, APAC. Reinartz comments:​
"We've been in touch with Showheroes Group since the middle of last year and while we entered initial conversations about a strategic collaboration, it quickly became clear that consolidation would create even more value. The combined video stack and monetization features more than double the tools in our tech portfolio. ShowHeroes is a global leader in the OVP (online video player) and independent AVOD world, and we're immensely excited to be able to fly the flag here in Asia and support our industry peers as a part of the larger group."
Hari Shankar, iVS Chief Revenue Officer, will now take the lead as VP Commercial, APAC.
"This acquisition will further establish iVS as a leading strategic player for video delivery and reinforce our already strong foothold in the premium video ad platform space." Shankar adds, "Joining forces with ShowHeroes, we will have a much stronger premium video advertising product that brings exclusivity to brand advertisers through ShowHeroes' high-quality video content production capabilities."
iVS will now be fully owned and operated under the ShowHeroes brand within ShowHeroes Group. All services for iVS premium publishers, advertisers, and partners will continue to be offered and distributed during the integration phase with ShowHeroes Group this year and moving forward.
See the dedicated press video announcing the acquisition.
About ShowHeroes Group
ShowHeroes is a global leader in digital video, offering content, tech, and advertising solutions.
As a co-publisher to leading online media outlets, the company upholds editorial excellence across a network of over 6500 websites, promoting quality journalism from the most reliable information and entertainment sources.
With a privacy-first approach, ShowHeroes' cookieless solutions, such as contextual and semantic targeting technology, paired with matched video content, drive value and relevance for both users and advertisers.
Founded in 2016 by Ilhan Zengin, Mario Tiedemann, and Dennis Kirschner with headquarters in Berlin, the company launched ShowHeroes Group in 2020.
Composed of its core brand ShowHeroes, production entity ShowHeroes Studios, performance marketing solutions provider Agon Digital, SaaS video solution Viralize, and The Digital Distillery, a networking event and content platform, the group employs almost 500 people worldwide with operations in 35 strategic hubs throughout Europe, LATAM, the US, and Asia.
Deloitte recognizes ShowHeroes Group as one of the 50 fastest-growing technology companies in Germany, winning the "Technology Fast 50" prize in 2021 and 2022.
More information on showheroes-group.com
About iVS
Established in 2016, iVS partners with leading publishers, broadcasters, and advertisers to bring high-quality and relevant video content to consumers in six top markets in Asia including Singapore, Japan, Indonesia, the Philippines, Malaysia, and Thailand.
Through the values of transparency, responsibility, and innovation, iVS delivers excellence in video delivery and advertising solutions through its full stack AVOD platform, proprietary OVP (online video player), and digital video advertising platform.
In recognition of its innovative product, iVS is the first ad tech company accredited in 2017 by Singapore's Infocomm Media Development Authority (IMDA) under its Accreditation@SG Digital programme.