ShowHeroes' CTV Innovation Team Drives Green Media for CTV launch, powered by Scope3 to Reduce Overall Emissions
18 September 2023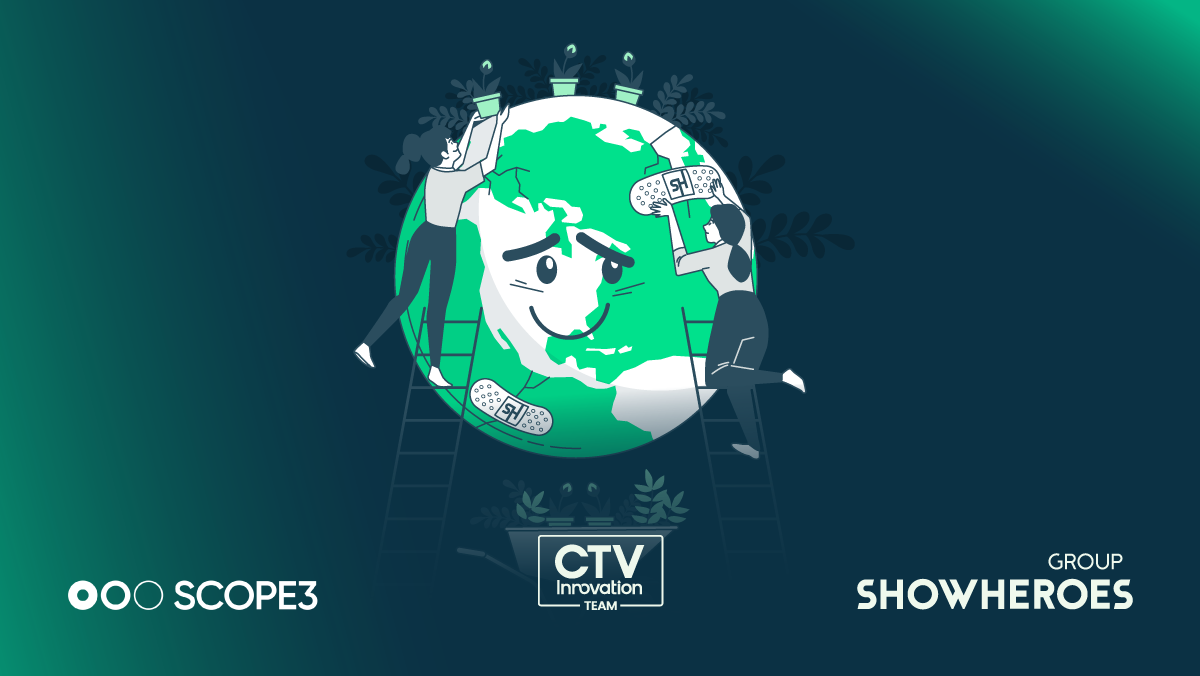 London, September 18, 2023: ShowHeroes, a global leader in sustainable digital advertising, proudly announces its Green Media Product (GMP) for ConnectedTV, powered by Scope3, a pioneer in carbon data solutions for the advertising and media industry. This innovative initiative underscores ShowHeroes' commitment to reducing the environmental impact of its video and display campaigns for CTV within the digital advertising industry.
Digital advertising as it currently stands has a substantial carbon footprint, with a single campaign being capable of generating hundreds of tons of greenhouse gas emissions. Recognizing the urgent need for change, ShowHeroes entered into a strategic partnership with Scope3 last November, aiming to drive meaningful reductions in the environmental footprint of its advertising endeavors.
A notable achievement of this partnership has been the integration of carbon emissions data measurement, now available in ShowHeroes' ConnectedTV (CTV) campaigns. Not only are CO₂ emissions calculated and compensated, but these packages are low-emission by design and align with Scope3's Green Media standards. With initial ShowHeroes' CTV Green Media campaigns running through H1 2023, there was an average production of 0.3 grams CO₂ per impression (normally one programmatic ad impression equals 1g CO₂e). This expansion of Scope3's emission-reduction offering demonstrates the dedication of both organizations to address environmental sustainability challenges in the evolving digital advertising landscape across all screens.
Gui Kfouri, Head of Customer Success Scope3, says,
"As CTV continues to capture a larger portion of advertising budgets, it's important that sustainability tools can accurately measure the emissions associated with the channels where marketers are spending. We've learned a lot about the emissions in advertising over the last eighteen months and leveraging that data to make informed decisions around newer channels like CTV will ensure the ad industry is growing responsibly and sustainably. We are excited to partner with ShowHeroes Group on the launch of their Green Media Product for CTV as the industry continues to move toward a more sustainable future."
At the forefront of this transformative journey is ShowHeroes' CTV Innovation Team, which has seamlessly woven all of the company's solutions into a compelling and distinctive offering. With an unwavering commitment to creating value throughout the CTV ecosystem, ShowHeroes empowers its clients with comprehensive support across the entire video value chain. This holistic approach includes access to a premium network of global CTV publishers, alongside robust post-campaign analysis and reporting capabilities.
Sarah Lewis, ShowHeroes Global Director of CTV, emphasizes the unique proposition that the CTV Innovation Team brings to the table:
 "Our CTV Innovation Team offers a proposition that is both trailblazing for our clients and aligned with our sustainable values. By introducing Green Media for CTV, we are proud to contribute to our Better Media framework, fostering heightened awareness within the industry about our collective environmental impact. Through this initiative, we are not only offering cutting-edge solutions that effectively reduce emissions but that also actively address our responsibility to mitigate our carbon footprint."
As the digital advertising industry experiences a paradigm shift towards eco-conscious practices, ShowHeroes' launch of the CTV Green Media Product marks a significant milestone. ShowHeroes and Scope3's collaboration signifies the power of innovation, leadership, and shared commitment to driving positive change within the digital advertising landscape.
About ShowHeroes
ShowHeroes is a global leader in digital video, offering content, tech, and sustainable advertising solutions. As a co-publisher to leading online media outlets, the company upholds editorial excellence across a network of close to 2 bln unique users and almost 80 bln views per month (total/ across all channels), promoting quality journalism from the most reliable information and entertainment sources.
With a privacy-first approach, ShowHeroes' cookieless solutions, such as contextual and semantic targeting technology, paired with matched video content, drive value and relevance for both users and advertisers.
Founded in 2016 by Ilhan Zengin, Mario Tiedemann, and Dennis Kirschner with headquarters in Berlin, the ShowHeroes Group employs almost 500 people worldwide with operations in 35 strategic hubs throughout Europe, LATAM, the US, and Asia.
According to Deloitte, ShowHeroes Group is one of the 50 fastest-growing technology companies in Germany and was awarded the "Technology Fast 50" prize in 2021 and 2022. For the Financial Times' "FT 1000" 2023, which ranks Europe's fastest-growing companies, ShowHeroes Group is in the top 60 companies overall, second in Germany for growth, and third in the advertising and marketing sector.
More information on showheroes.com.