FLORENCIA CALLUSO JOINS SHOWHEROES COMMERCIAL MANAGEMENT IN ARGENTINA
2 May 2023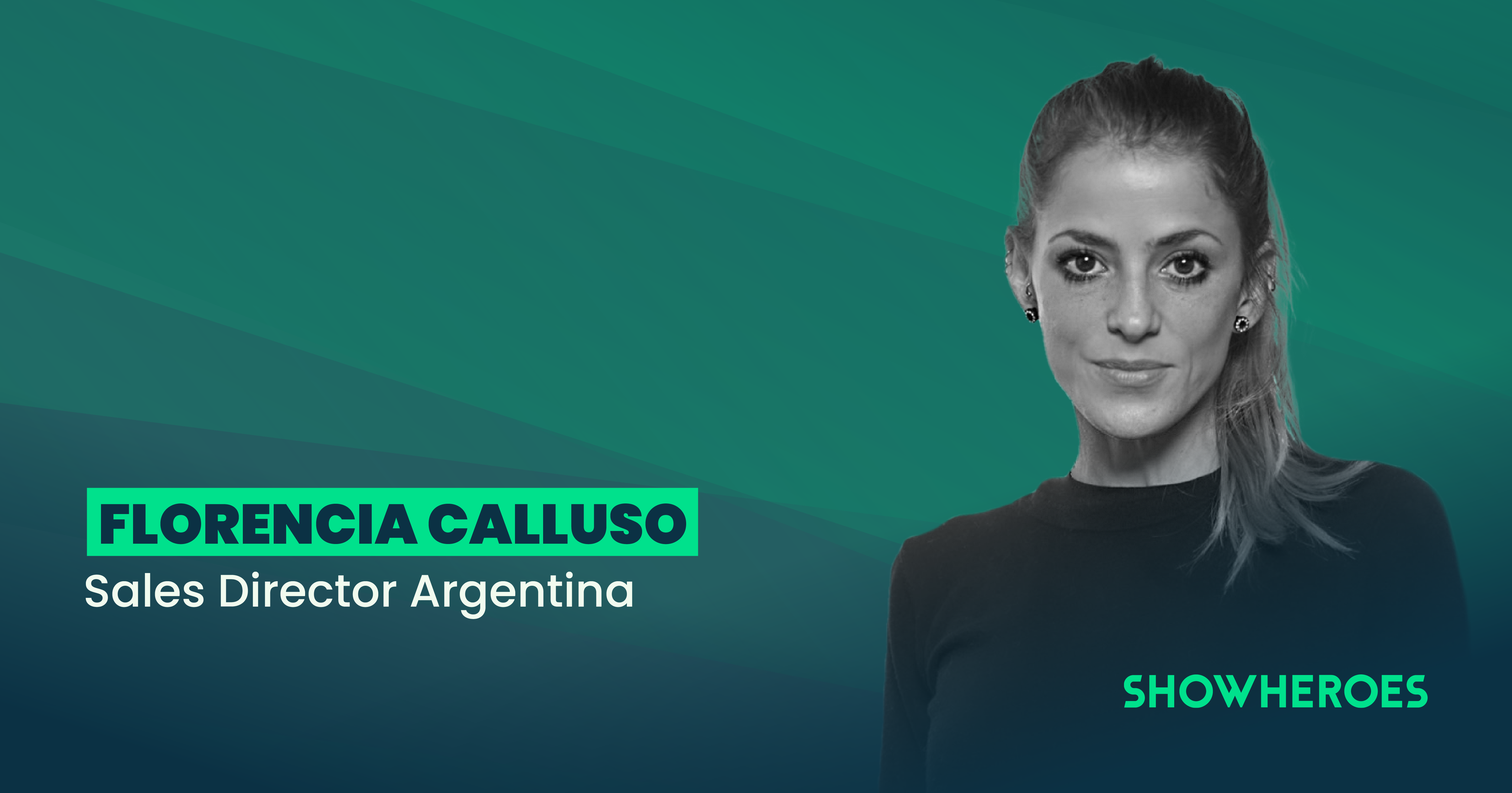 The executive joins the global video tech company following the departure of Ernesto López
Buenos Aires, 2 May 2023 – ShowHeroes, a global leader in digital video, offering content, tech, and advertising solutions, announces a change in its Commercial Management with Florencia Calluso taking over as new Sales Director Argentina after the departure of Ernesto Lopez who will pursue new professional horizons in Spain after almost one year of leadership and excellent results.
Lopez expressed: "I am very grateful to ShowHeroes for the trust and the opportunity they have given me to grow and develop professionally. I will always admire the passion and dedication with which they approach each project and how they work together to achieve the company's goals. I am convinced that ShowHeroes will continue to grow exponentially, thanks to the talent and commitment of its team".
Florencia Calluso is the perfect fit for her role as Sales Director Argentina. With more than 15 years of experience in the digital advertising market in companies such as Vidoomy and Adsmovil, leading sales teams, Calluso comes to ShowHeroes with a fresh and innovative vision. She commented, "I am very excited to take on this new challenge with the ShowHeroes family. The team is truly amazing and together with them we will continue to focus all our efforts on offering our clients the best service, innovation, cutting-edge technology, and multiscreen video creativity".
Rodrigo Vieites, Sales Director Latam & Country Manager Argentina, said about Lopez, "I thank him for his dedication and tireless work during this year. From the ShowHeroes team, we wish him the best of success in his professional and personal goals". Vieites also expressed his enthusiasm for the arrival of Florencia Calluso: "I am confident that Florencia's experience and leadership will take our company to a new level in the digital video advertising industry".
With the arrival of Calluso, ShowHeroes is confident that it will continue to lead the digital video advertising industry in Argentina and will continue to provide innovative and effective advertising solutions and technologies to its clients.
ShowHeroes is a global leader in digital video, offering content, tech, and advertising solutions.
As a co-publisher to leading online media outlets, the company upholds editorial excellence across a network of over 6500 websites, promoting quality journalism from the most reliable information and entertainment sources.
With a privacy-first approach, ShowHeroes' cookieless solutions, such as contextual and semantic targeting technology, paired with matched video content, drive value and relevance for both users and advertisers.
Founded in 2016 by Ilhan Zengin, Mario Tiedemann, and Dennis Kirschner with headquarters in Berlin, the company launched ShowHeroes Group in 2020.
Composed of its core brand ShowHeroes, production entity ShowHeroes Studios, performance marketing solutions provider Agon Digital, SaaS video solution Viralize, and The Digital Distillery, a networking event and content platform, the group employs almost 500 people worldwide with operations in 35 strategic hubs throughout Europe, LATAM, the US, and Asia.
According to Deloitte, ShowHeroes Group is one of the 50 fastest-growing technology companies in Germany and was awarded the "Technology Fast 50" prize in 2021 and 2022. For the Financial Times "FT 1000" 2023, which ranks Europe's fastest-growing companies, ShowHeroes Group is in the top 60 companies overall, second in Germany for growth, and third in the Advertising & Marketing sector.
More information on showheroes-group.com