GLOBAL CTV TRENDS FOR 2023 AND BEYOND
CTV advertising is taking off as the industry unlocks its potential
6 January 2023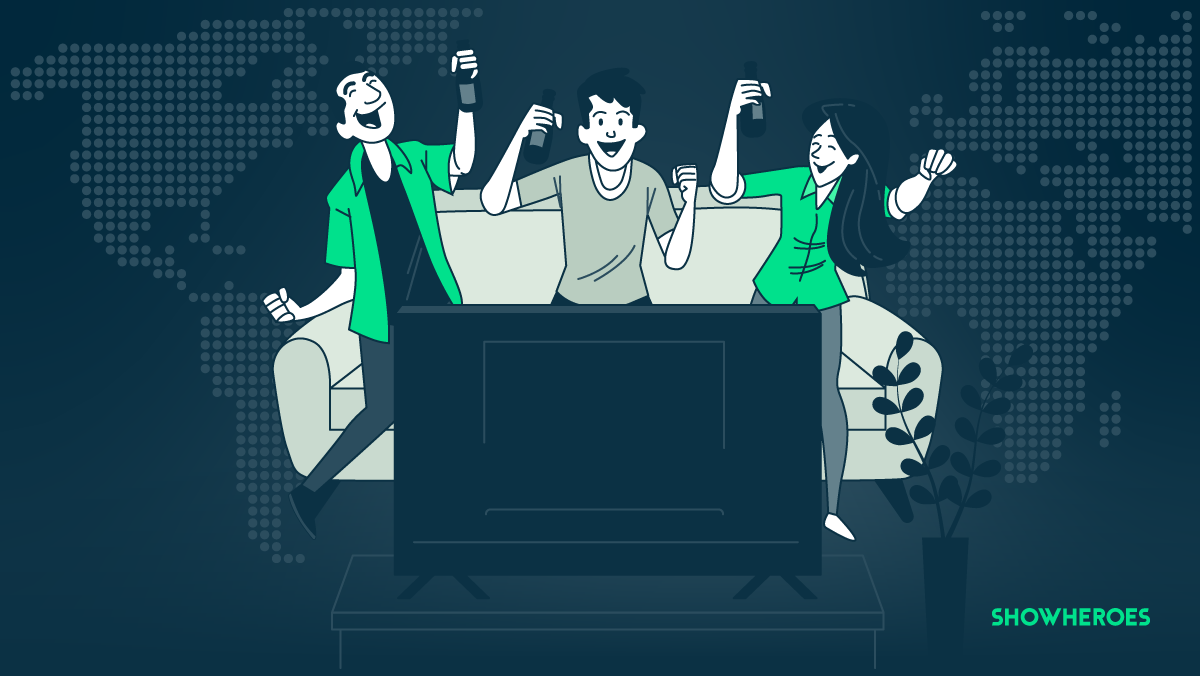 Connected TV is a red-hot topic in the global digital advertising industry and it refuses to cool down. That's because of both its remarkable ability to capture user engagement, and because of its increasing accessibility for advertisers. 2023 is set to be a year of significant growth for CTV advertising around the world, with the years following set to keep up the momentum. For a quick recap of why connected TV advertising holds so much promise for advertisers, check the highlights from our 2022 study:
CTV has an 82% attention rate, compared to 69% for linear TV
Users pay attention to ads for 3 seconds longer than they do with linear TV
Time spent in the 'engagement zone' was 11% higher than when watching social video advertisements
For a full breakdown of those statistics and much more information, you can download our study for free below. Even at a glance, though, it's clear why CTV trends, both in terms of ad spend and viewership, are taking the global advertising industry into a new TV-screen powered paradigm.
We're taking a deep dive in this article into three of the world's major digital advertising markets to see how they'll be utilizing CTV in the near future – read on for insights into the US, Latin American, and European markets.
key takeaways:
US markets are investing heavily in CTV advertising
AVOD services are gaining significant ground across Europe and LATAM
Targeting, privacy, and measurement are still pain points for marketers
CTV TRENDS IN THE US
CTV spending is expected to double by 2026, according to eMarketer's latest projections – their complex methodology is thorough and as sophisticated as a weather station's, so their figure of $43.59 billion by 2026, up from $21.16 billion in 2022, is bound to be in the right ballpark.
It's particularly interesting that the rise isn't tied to ownership of CTV devices, which is hitting saturation levels in the US – in 2022, 92% of US households were reachable by programmatic CTV advertising. Between 2022 and 2026 the number of CTV users is predicted to only increase by 16.6 million users, from 225.7 to 242.3 million people – not that significant of an increase in the big picture, and not a sufficient explainer for why CTV ad spend is predicted to double by 2026.
So, what explains the increase in spending? For starters, an astronomical rise in average streaming times in the US. In 2023, the average US resident will spend more than an hour and a half per day streaming with subscription OTT devices, up from under an hour pre-pandemic. That's an extra half hour per person. While the increase is in OTT devices in general rather than CTV in particular, the trend that streaming is on the up-and-up in the US is clear.
Marketers are further excited by the first steps into AVOD territory that are being taken by Netflix and Disney+, two giants in CTV streaming. For 2023, Netflix and Disney+ are only predicted to account for around 6% of the US' CTV ad spend, but that market share will grow significantly as the two companies find their feet in the AVOD market. Also causing excitement is the recently announced confirmation by Warner Bros. Discovery that they'll be releasing an AVOD service and "aggressively attacking" the lower-pay bracket of the streaming market – with great streaming services rather than weaponry, of course!
CTV TRENDS IN LATIN AMERICA
Latin American users hugely favor CTV over linear TV. Encouragingly for advertisers in the region, AVOD services are much better favored over SVOD.
The embrace of CTV and free, ad-supported platforms in particular in the Latin American region is supercharging its potential.
Ángel Pascual, Regional Director for Latin America at ShowHeroes, explained during an interview with Produ that according to a report from IAB Mexico, advertising spend on CTV will be 62.6%, versus 37.4% on traditional TV, by 2025.
As Pascual points out, the outlook for CTV advertising in LATAM is particularly optimistic as inflation sets in throughout the region – as CTV users get more conscious about their spending, free AVOD services will become increasingly popular choices over their SVOD counterparts.
Read the full write-up on the Latin American region's potential here.
CTV TRENDS IN EUROPE
Europe's CTV landscape is in a state of significant growth, in terms of adoption and spending. Across Western Europe, only 55.2% of the population owns CTV devices compared to 75% in the US – leaving huge room for user growth in the region.
Expect the number of European CTV device owners to rise significantly over the coming years, given our CTV report found that 80% of Europeans prefer CTV over linear TV and the fact that in all of Europe, as in the UK and the US, smart TVs are becoming the default option for TV purchases.
As subscription fatigue sets in and a cost-of-living crisis hits across Europe, with the UK being particularly affected by the latter, we're expecting AVOD subscriptions to rise similarly to how they're predicted to rise in Latin America. In the UK, 51% of users wouldn't be willing to pay to avoid ads on the streamer of their choice, and 30% of respondents said they've cut back on spending on streaming services.
That means more people will be looking to save costs by using AVOD services, creating more opportunities for advertisers.
OVERCOMING CTV PAIN POINTS
TARGETING
One of the most common pain points for marketers around the world is effective targeting, with 47% of marketers worldwide claiming they'd spend more on CTV if they had better access to targeting data.
Targeting difficulties are especially present in the EU, where GDPR laws scare off Google and other DSPs from channels not collecting user information.
Privacy-protecting targeting technologies such as ShowHeroes SemanticHero for CTV deliver accurate targeting while circumventing the need for customer data. With artificial intelligence technology, a more sophisticated form of contextual targeting is achieved that delivers advertisements relevant to what's being watched. Context-based targeting is all the more important for CTV: Watching television is often a group activity, meaning individual targeting can be a lot less effective on a CTV screen than on a phone or laptop. Contextual targeting, on the other hand, can engage groups of people at once.
PUBLISHER NETWORKS
European markets have a particular pain point in that the continent's population is split among many countries with many languages and many different broadcasters that need to be approached for inventory. That's in contrast to the US, which, as one large territory, and can be covered far more easily.
That doesn't mean, however, that there aren't publisher networks that span the EU – ShowHeroes, for example, has over 800 trusted publishers in its network, including those across several European markets. Networks of vetted, brand-safe publishers like ShowHeroes' let advertisers cover a large, multi-country scope with a single point of contact.
ENGAGEMENT
CTV screens are already among the most engaging screens out there – just look at our study. But that doesn't mean there aren't improvements to be made. That's why ShowHeroes created Native CTV, our solution that takes the CTV experience above and beyond.
Native CTV takes a professionally produced short video clip, courtesy of ShowHeroes Studios, that's relevant to your advertisement and plays it beforehand.
There's also the issue of user interaction with what's being shown on CTV screens. When users are holding remotes rather than computer mice, there's no clicks to generate. Given many CTV viewers are second-screening, using their mobile phones while watching, QR codes are an innovation that allow for easy user interaction and engagement. Expect that to be an increasingly popular feature with CTV advertisements. Check out ShowHeroes' Branded Player as an example!
MEASUREMENT
CTV measurement is still in a developmental phase, with the majority of campaign analytics being, at the moment, broader overviews rather than performance-based numbers. However we're expecting programmatic innovation to take off for CTV in 2023, which will bring new measurement capabilities with it.
As the CTV industry is seeing more pressure to deliver performance-based data, traditional metrics such as viewability are evermore outdated, as demonstrated by DoubleVerify's findings that in one out of four top CTV environments, streamed content continues to play after TVs are turned off. What's needed are advanced attention metrics, which can show whether ads are shown in full, whether screens are turned on, whether ads have played through, and more.
Combined partnerships with measurement companies like Adalyser, VideoAmp, iSpot.tv, Oracle and TVSquared offer more measurement options for CTV players. ShowHeroes currently works with a number of measurement companies to offer the most comprehensive measurement options possible.
It's inevitable that CTV measurement will improve as the demand is extremely high – 30% of marketers worldwide say they'd increase CTV ad spending if they had access to more transparent measurement.
Whether you're looking to supercharge your existing CTV strategy or you're taking your first steps into CTV advertising, we'd love to get in touch. ShowHeroes solutions are designed to utilize CTV to its full potential, from SemanticHero targeting to Native CTV's engagement-boosting videos.
Our network of over 800 publishers, our video library containing 150,000+ premium-quality videos, and our state-of-the-art solutions are standing by to put your advertisements in the most engaging context possible.