What you need to know about the latest video trends
17 June 2021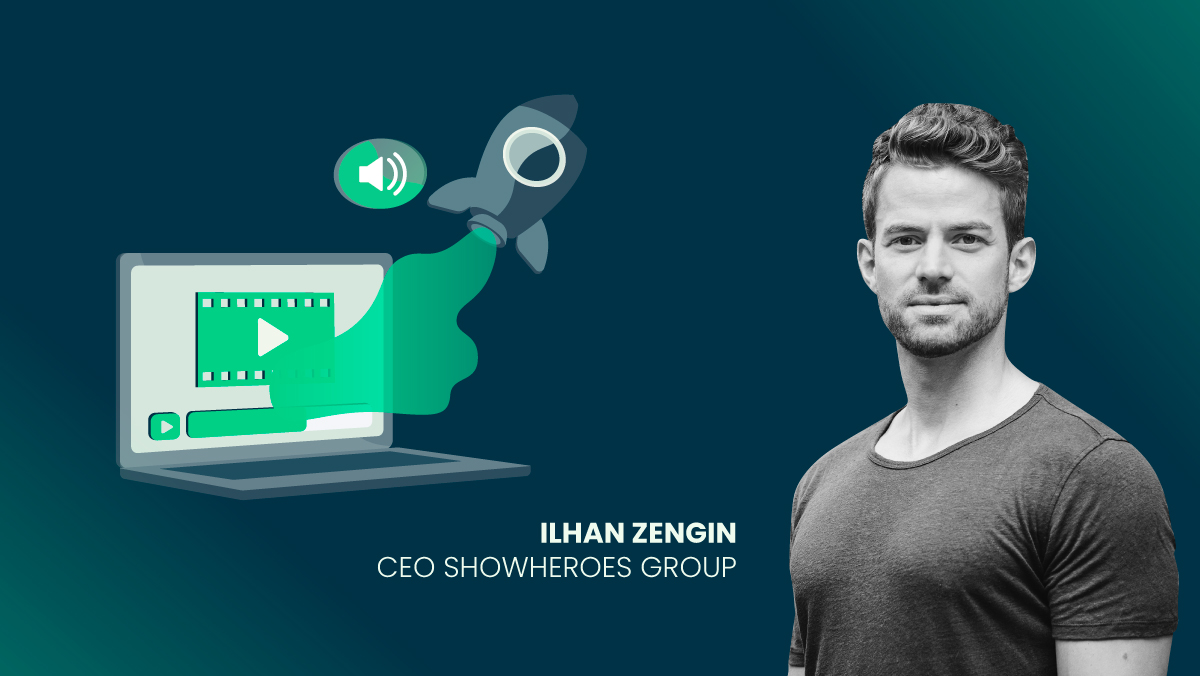 Programmatic, new advertising formats and Connected TV are just some of the buzzwords circulating in digital video. Ilhan Zengin, CEO of ShowHeroes Group, knows which of these topics are important right now.
Video saved us in the pandemic: In Zoom or Teams calls with colleagues, in the evening, with new films from Netflix, Amazon & Co, but also with fitness videos customized for the home office, recipes for the stove at home or gaming offers.
If the Corona era was a boost for digitization, video was and is an important part of it. Videos are now responsible for over 80 percent of Internet traffic. This has consequences, also for the advertising industry. It's true that the trend toward video – in view of higher bandwidths, a wide variety of content and lots of screens of all different sizes – is nothing new. But new technological developments, innovative advertising formats and growing reach are taking digital video to a new level.
For advertisers, the channel offers numerous new formats: in- or outstream videos, reels ads on Facebook and Instagram, top view or infeed videos on TikTok or dynamic split screens and other interactive instream ad formats on publisher sites.
Digital video offers much more than the 30-second commercial break. In addition, there are additional screens and new possibilities for user targeting. And a growing reach: According to the online study by the German public tv stations ARD and ZDF, 83 percent of respondents in Germany aged 14 and older used online videos at least occasionally in 2020. By way of comparison, ten years earlier the figure was just 45 percent. In younger target groups, we can even talk about full coverage (14-29 years = 100 percent, 30-49 years = 96 percent). While analog television is losing reach and usage time, especially among younger people.
Five current trends are currently shaping the video advertising market:
1. Video is much more than YouTube – advertising beyond the big platforms
Sure, when you think of video and advertising, YouTube or social networks like Facebook and Instagram come to mind. But there are significantly more offerings. That's because many publishers are also discovering and producing more and more video content for themselves and their websites. More high-quality instream inventory is available, coveted as a safe advertising environment for brands. New, interactive advertising formats will be available in the future: from split-screen to shoppable ads to commercials with integrated lead generation.
2. Programmatic advertising is gaining ground
Digital marketing will be dominated by automation and programmatic booking in the future – this also applies to videos. Our business is data-driven. Classic IO (insertion order) bookings, where companies specify the page, runtime and price of their ad, are on the decline.
Digital marketing will be dominated by automation and programmatic booking in the future – this also applies to videos. Classic IO (insertion order) bookings, where companies specify the page, runtime and price of their ad, are on the decline. The tipping point for programmatic booking in Europe has in fact been reached last year when for the first time, more than 50% of display spend was programmatic according to the IAB ADEX benchmark 2020 study.
For us at ShowHeroes Group, this point in time was reached earlier – and actually this was also the case for the entire market. Programmatic has become established across the board. Since 2019, we have been generating more revenue with programmatic (video) advertising than with traditional IO business. In the future, it's all about standardization and/or individualization, especially in targeting and special forms of advertising. And other media will be added. We need to integrate them and link all touchpoints with each other.
3. Cookieless: semantic targeting as an alternative
The era of third-party cookies is coming to an end. What began as a shock for an entire industry has become an opportunity to make room for new technologies and approaches. Even without third-party cookies, users can be addressed according to their interests. In some cases even better. Particularly with video advertising, the context in which the commercial is running is highly relevant. Semantic targeting has been around for over ten years, but it's getting better all the time.
What we understand today, for example, is that users use and perceive the same content differently in different situations. So it's not just the content that's interesting, but also the contextual environment. We can now form semantic target groups without personal user data. We know with a high degree of probability that certain people have seen a certain commercial. And marketers can build on this knowledge.
4. Connected TV on the rise
Young people watch less linear TV, but spend a lot of time in front of screens of all sizes. Meanwhile, 66 percent of TV sets in German households are technically connected to the Internet. The conditions are therefore in place to reach younger target groups via the largest screen – the TV set – which analog TV has lost: According to the Goldbach Advanced TV Study 2021, more than 70 percent of 16-49-year-olds in the DACH region use Connected TV (CTV). And the trend is rising. In the USA, the segment is growing – as is so often the case – quite a bit faster. But the trend is also arriving in Europe this year.
The first advertisers such as Warsteiner are already deliberately targeting viewers via CTV (Samsung TV Plus) who have not seen a spot on conventional television. And the budgets for CTV do not usually come from the digital budget, but from the much larger pots for classic television.
5. Brand Safety: A challenge for brands and agencies
The advertising environment is crucial for the positioning of a brand. So the question is: On which page and in which thematic environment is the campaign running? Many videos by content producers on YouTube and social networks are problematic and risky for brands as an environment. No wonder that the topic of brand safety is currently at the top of the list for 69 percent of agency decision-makers surveyed by FOMA (Fachkreis Online-Mediaagenturen) and is rated as "very relevant." This is why video content within editorially curated publisher pages that ensure brand safety is becoming increasingly important.